For many foreign manufacturers, English-language websites are their first point of contact with potential customers in North America. But, when the quality of English translation is poor, these companies miss an important sales opportunity. An accurate, interesting and professional English-language website:
1) Makes a great first impression: websites are often the first place buyers look for information. If the website doesn't include the right information, or is confusing because the English translation is inaccurate and unnatural, people will look for a different supplier.
2) Differentiates a company from its competition: buyers have thousands of suppliers to choose from. An English-language website written by a native speaker can make a company stand out from its competitors.
3) Strengthens a company's credibility: some buyers will overlook awkward translations or errors but many won't. Inaccuracies on a website may lead buyers to believe there will be mistakes in other parts of the business too, including on orders. So, getting it right online builds credibility with buyers.
4) Improves search engine rankings: good website content will improve a company's search rankings – in search engines like Google and on sites like Alibaba. The words and phrases a company uses to describe itself are very important. These search terms and keywords will also help potential buyers understand the products and services a company provides.
Why am I telling you this?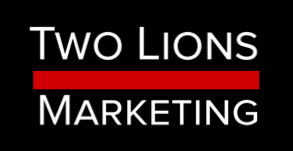 I've just started a new side venture – Two Lions Marketing – with an industrial designer pal, Rob Nathan of 4139Design. We evaluate and improve the English-language websites of Asian manufacturing companies, offering strategic assessments of the sites from the perspective of potential buyers. We believe the way companies communicate directly impacts their ability to sell; our partnership specifically targets organizations looking to build their customer base in North America.
How did this start?
Rob has been working with suppliers in Asia for several years now and has recognized that companies with strong English-language websites and written materials make his job easier. He can find (and read) the information he needs easily which enables him to shortlist suppliers for his projects, quickly and efficiently.
Many companies have great information on their sites; it's just poorly translated into English, or organized in ways that won't appeal to North American buyers. Rob and I started talking about this one night at dinner and a few months later, we started Two Lions together.
Who can we help?
As we build our client base, we're reaching out to our networks looking for your input on companies you know that could use our help. If you work with any Asian suppliers you feel would be open to receiving feedback about their existing websites (at the moment, we're targeting Chinese and Korean companies, but we're open to working with companies operating in other countries too), please introduce us! We greatly appreciate your introductions and referrals.
How do we work?
Our range of services is narrow: we want to focus our business on conducting evaluations of websites and offering recommendations for improvement. We are not your standard copy-editing service; as I said above, what we offer is a strategic assessment of a company's English-language site from the perspective of a potential buyer. We provide our clients with reports containing specific recommendations and actionable feedback for improving the way they communicate online. Learn more about what we offer here. We're also currently offering free website evaluations to companies who want to see how we work before making the decision to work with us.
If you have any questions or feedback, please email me or contact Two Lions directly.